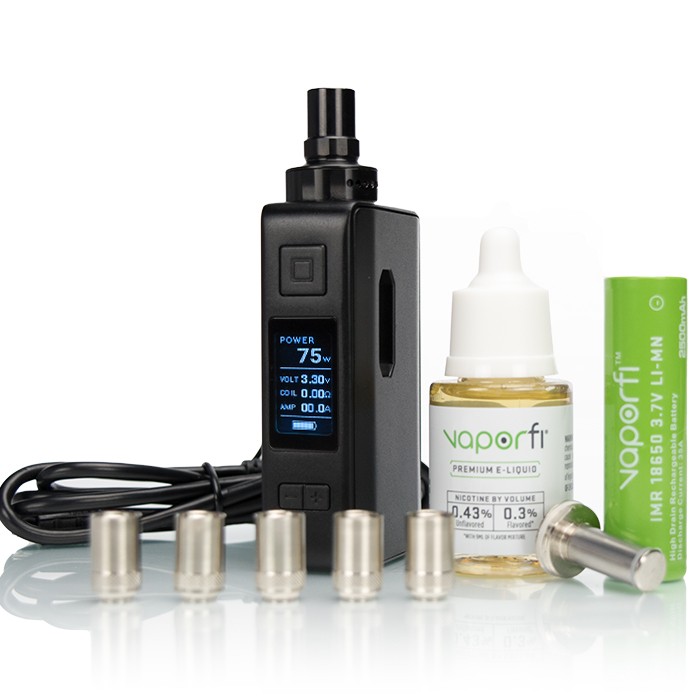 VaporFi added yet another set of box mods on the lineage of their VaporFi VOX, VAIO, and VEX family. This 3 new generation series has taken it by storm and made its way out to the public just this month, and they certainly have a lot of new features to look forward to. The 3 series provides users with 3 different options: Built-In Battery MODs, All-In-One Devices, and External Battery MODs. Today we will discuss the:

All-in-one device in the VaporFi VAIO™ series
The VaporFi's all-in-one series or VAIO consists of two different devices, the VAIO 75 and 80 TC Mod. With their built-in tanks no matter what your preferred vaping style is, whether you like little vaping, big vaping, mouth to lung vaping or direct to lung vaping, this two devices got you covered. Choose either from a built-in battery or removable battery device from this collection.
Here We Discuss The VaporFi Vaio 80 Watt TC Mod
All-in-One Tank
The VaporFi VAIO Collection has a built-in tank pre-installed right into the body of the mod. A tank window that lights up when vaping, is located at its front chassis in VAIO 80 and both sides for VAIO 75. It helps the user to see the status of the e-juice levels and it's quite neat to look at.
Both VAIO 75 and 80 TC mods have tank connector included in the box, to utilize your personal favorite sub-ohm tank or RDA to be attached directly to the mods and used them instead of the built-in tank. The built-in tanks for both VAIO 75 and 80 TC mods has 3.5ml e-liquid capacity with top-fill design, airflow technology, and features CLOCC atomizers same technology used on kanger mods to prevent spitbacks. Featuring variable wattage and temperature control capabilities, the VAIO 75 and 80 TC is compatible with SS316L, Ni200, titanium, and kanthal coil types.
Battery
Aside from the difference in wattage range with only 5 Watts in gap, the two devices has also differences on battery capacity. The VAIO 75 requires 1 REMOVABLE 25A 18650 battery which is not included in the box. While the VAIO 80 has a BUILT-IN 2100mAh battery which can last a day or less, depending on how you vape. Regarding its differences, both devices have 0.15 to 3.0ohms for variable wattage, both are temp control devices and temp range is at 200-600°F with temperature resistance of 0.05 to 1.0ohms. For the VAIO 80, it has a pass-through feature, so you can charge it while vaping at the same time.
Performance
The vapor production is perfectly good for both devices at around 50W-60W. For me, that's the sweet spot to vape these mods. But it depends on your preference and taste I just find it good on the temp. I do not recommend to ramp these mods to its maximum range with its built-in 0.25 coils; it may burn the coils. If ever you really want to push either of this mods to its maximum wattage, I recommend using sub-ohm tanks that can handle its wattage range: 75-80 watts. Perhaps something like the popular TFV8 Baby Beast or Joyetech Ultimo.
VaporFi welcomes its first line of all-in-one devices in the VaporFi VAIO™ series. The VaporFi VAIO 80 TC is a built-in battery device that features an internal tank, supporting both variable wattage and temperature control atomizers. Fire your kanthal, stainless steel, titanium and Ni200 VAIO™ atomizers at high wattage and temperatures excellently! A conveniently placed tank window allows the vaper to gauge their vape juice levels. Featured in this kit is a tank connector, allowing for any sub-ohm tank or RDA to be mounted upon your MOD and fired with the same level of precision. The VaporFi VAIO™ 80 contains a 2100mAh built-in battery, boasting extended battery longevity and consistent draws throughout the duration of your vaping experience. Included in this kit is six SS316L atomizers reading at 0.5 ohms for impressive flavor and vapor production. An included notch atomizer allows for increased coil surface area preventing excessive dry hits and providing tremendous flavor. Also Included in this kit is your choice of a Black, Purple, Green, Pink, Clear or Blue VaporFi VAIO 80 TC Rubber Silicone Case and your own custom blend vape juice. Be sure to buy a VAIO™ 80 TC Starter Kit today!
VaporFi VAIO 75 -VS- VaporFi 80



Where to buy?