Wotofo CHIEFTAIN 80W TC BOX MOD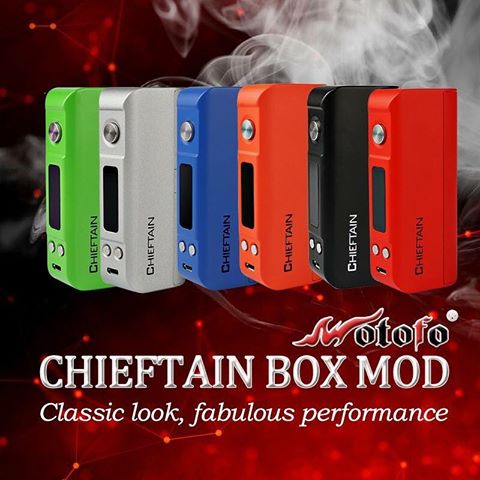 Purchase The Chieftain Box Mod here
This year we have all seen a huge uptick in vape kits containing a miniature mod and a subohm tank. Especially from Chinese companies, it seems like this year there have been too many kits to count. Today I will be taking a look at another new kit, this time from Wotofo Called The CHIEFTAIN 80W TC BOX MOD.
Before I get into the review, I have to say that I hope Wotofo made enough of these things because this Mod is awesome.
Let's get to it.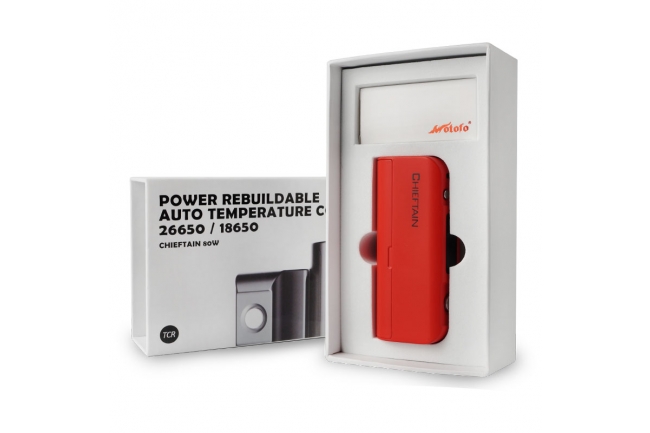 PRODUCT Gallery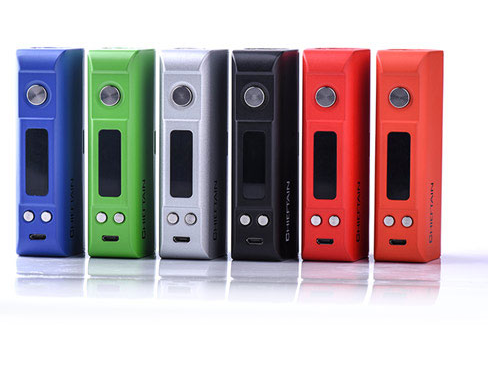 The Wotofo Cheiftian 80 Watt Mod is the shrunken version of the uniquely shaped Wotofo Chieftain 220 watt Mod.
Likes
Cool-looking design for the Chieftain.
Center-mounted 510 gives the mod a unique look and amazing balance
Very useful features
Custom curves for wattage or temperature
TCR
Firmware upgradable
Details
Material: Aluminium alloy
Support NI TI SS316 , Also with TCR function
Resistance range: 0.03 - 1.0ohm (TC mode), 0.09 - 3.0ohm (VW mode)
Temperature control range: 212'F-572'F/100-300℃
Variable wattage: 5 - 80W
Output wattage: 80W
Hidden explosion-proof vent
Using 1pcs 18650/26650 Battery (not included in the package)
Easy to operate
Ergonomic design and light weight
Specifacations
Brand
WOTOFO
Material
Aluminium alloy
Color
Black,Silver,Dark Blue, Red, Green,Orange
Thread
510 Thread
Product size (L x W x H)
92.5 x 43.5 x 28.5 mm
Product Weight
0.132 kg
Battery
Single 18650
Wattage/Voltage
5W-80W
Temperature Control
212'F-572'F/100-300℃
Resistance range
0.03 - 1ohm (TC mode) / 0.09 - 3ohm (VW mode)
Resistance
No
Output Voltage
No
Package Type
Gift Box
Package List

1x Chieftain 80W Box MOD

1x Manual Card

1x Gift Box

Certificate

CE&RoHS
Wotofo Conqueror Mini RTA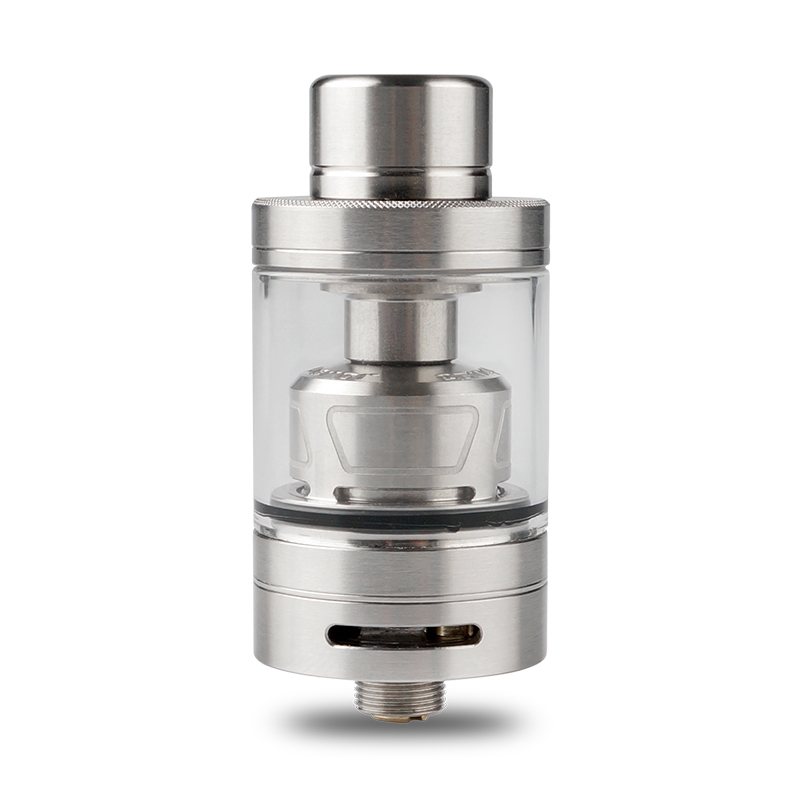 Our Wotofo Conqueror review takes a look at the new RTA, which offers a dual-coil, post-less deck with a 2.5 ml tank and plenty of handy design features. It's going to get cloudy in here.
Pros
Post-less design offers a spacious deck.
4 ml glass tank.
Easy to rebuild, and also comes with some pre-built coils.
Big wicking ports and liquid flow control means it can handle high-VG juice.
Airflow control ring, with below-coil output holes.
Great vapor production.
Outstanding flavor.
Ideal for longer-term vapers looking for RDA-like performance from a tank.
Good price – $30 for the tank.
Post-less design offers a spacious deck.
4 ml glass tank.
Easy to rebuild, and also comes with some pre-built coils.
Big wicking ports and liquid flow control means it can handle high-VG juice.
Airflow control ring, with below-coil output holes.
Great vapor production.
Outstanding flavor.
Ideal for longer-term vapers looking for RDA-like performance from a tank.
Good price – $30 for the tank.
Cons
Some leaking from the airflow holes.
The liquid flow control and airflow control rings are too stiff.
Seems to work through juice pretty quickly.
Bottom Line
Despite some minor issues, the Conqueror is an excellent RTA overall. With a beautifully designed post-less deck, 4 ml glass tank, solid vapor production and robust flavor, the device is both easy to build on and offers stand-out performance. It's hard to fault, especially considering the $30 price-tag.
Rebuildable tank atomizers (RTAs) are becoming more and more popular, with many tanks incorporating rebuildable atomizer heads alongside the pre-made options, as well as some exceptional purpose-designed RTAs hitting the market. Wotofo (the company best known for the Freakshow, Troll and Sapor RDAs) already has their own RTA in the form of the Serpent, but their new offering – the Conqueror – blows it out of the water in terms of potential. With a post-less deck design capable of supporting dual coils and a 4 ml tank, it definitely holds a lot of appeal for vapers.
But is the Conqueror as good as it looks? Is it worth the $30 price-tag? We've taken a look at what it has to offer for our Wotofo Conqueror review.
This tank was provided to us for the purposes of this review by Wotofo, but, as always, this Wotofo Conqueror RTA review will be a completely fair appraisal of the device.
What You Get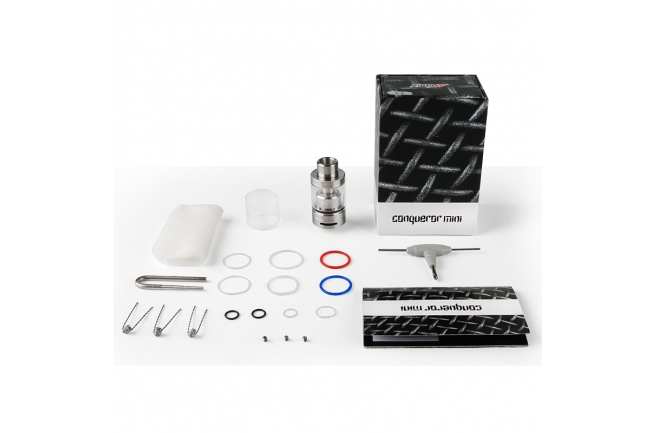 The Wotofo Conqueror Mini comes in a grey and white box, with the name of the device on the front and Wotofo's logo on the bottom, and the outer case slides off to reveal your tank nestled in a foam block on the top layer. Underneath, there are three packets, with one containing a section of Japanese organic cotton, one containing three pre-wrapped twisted Kanthal coils, and another containing an Screw driver, spare O-rings and a few spare grub screws for the deck. Although I'd have preferred re-sealable bags to the rip-open packets the extras came in, it's a great offering all-round.
The Design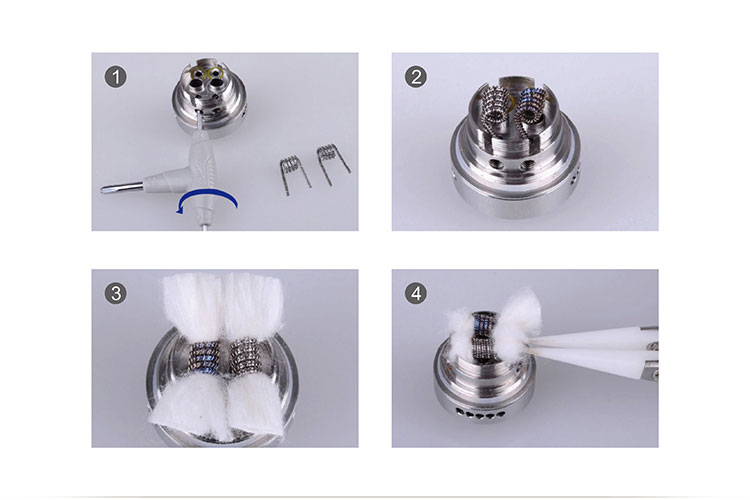 The Wotofo Conqueror Mini RTA has a pretty formidable appearance despite it's Mini size, standing over 1 and 1/3 inches tall and having the standard 22 mm diameter, with a short, fat drip tip sticking up from the top of an almost solidly metallic body. The tank has two windows on opposite sides of the tank so you can see how much juice is remaining in the 2.5 ml tank, with one towards the top and one closer to the coils at the bottom. The word "Conqueror" is engraved into the body of the device, and two sets of five circular airflow holes each at the bottom. The tank looks great, and pairs well with a wide range of devices.
From a more functional perspective, the device is made up of a deck at the bottom and an outer tank body which screws onto it. The deck itself, thanks to the postless design, is very bare and wide open, with four screw-points around the outside and corresponding holes in the deck, which you can see the grub screws through. There are nice, big airflow holes between the pairs of screw-points, so the air comes right up underneath your coils. Finally, the deck has four slots cut into the outer ring for juice to flow through.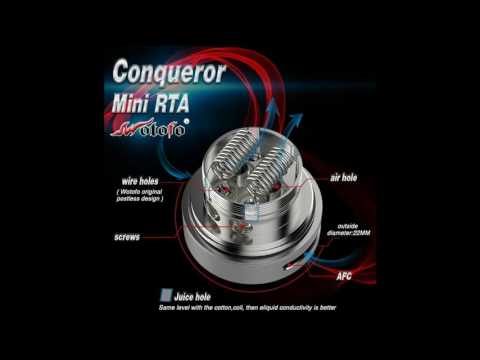 The tank has a top-filling design, with the top cap and drip tip screwing off to reveal two curved slots for you to refill. Underneath this, there's an adjustable ring which allows you to control the liquid flow to your coils. This isn't the easiest thing to adjust – you have to grip the rest of the tank fairly tightly to really get it moving – but it works well when you get used to it. You can see how open it is through the lower window, and it can be completely closed off if you want to prevent any leaking for when you aren't going to be using the tank for a while.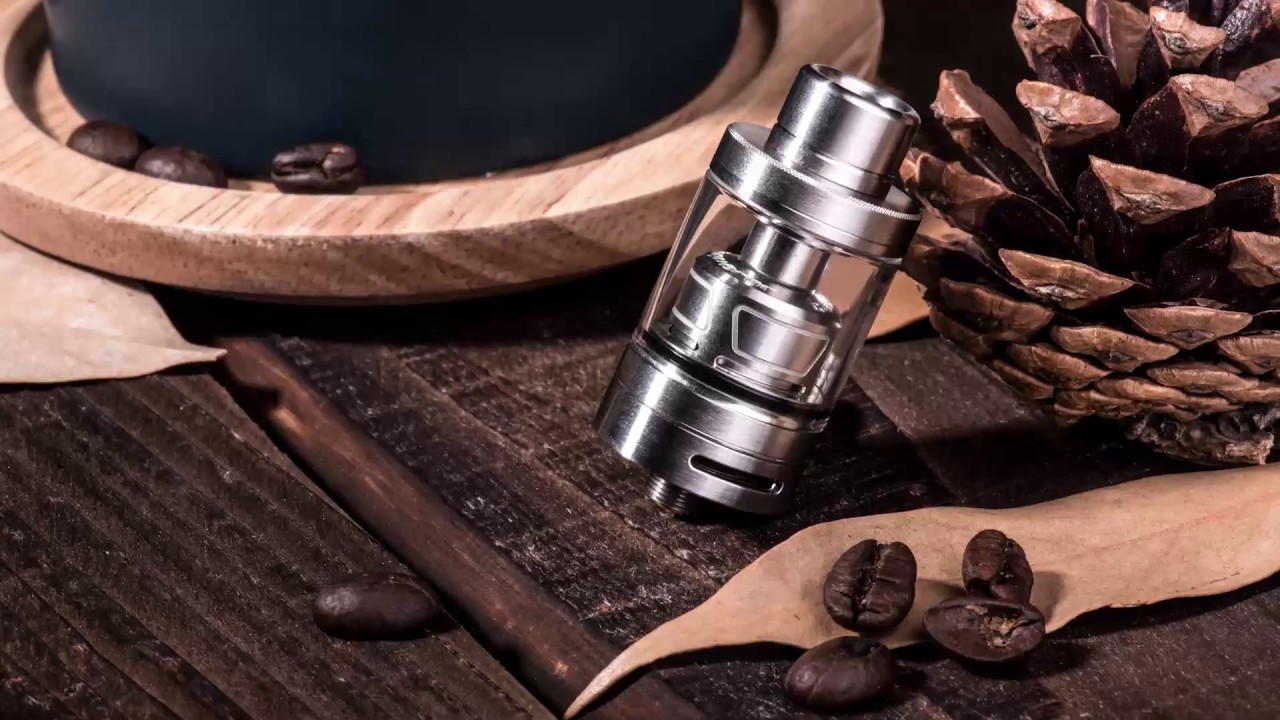 The airflow control system works in the same way as most – with the ring at the bottom adjusting to cover up as many of the holes as you like – but looks a little nicer than the standard slot-style options thanks to the array of circular holes. You can still adjust it well enough to suit your preferences, though, so you're unlikely to have any issues at all.
Overall, the Wotofo Conqueror RTA has a great design: it does well from both an aesthetic and a functional perspective, and offers plenty of options for tailoring your experience.
Ease of Rebuilding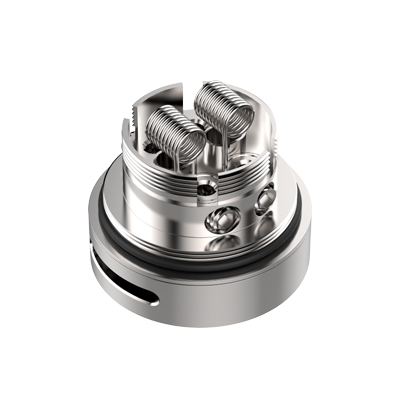 The unique deck design on the Conqueror makes rebuilding a painless process. Once you've wrapped your coils, you open up the holes in the deck by loosening the grub screws, and then cut the legs of your coils to size, so your coils don't stand up too high from the deck but leaving enough space to center them over the airholes. There's a bit of trial and error here, but you get used to it pretty quickly. Tightening the grub screws down is simple: you have to hold each coil in place as you fix the first leg in place, but then the second one is much easier to deal with.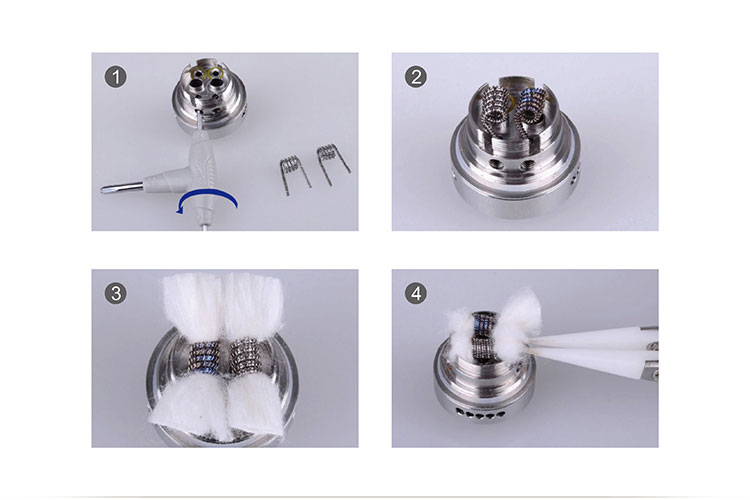 The sizable wicking ports and the adjustable liquid flow makes the process of setting up your wicks a lot easier than with other RTAs. You just cut the ends so they reach the ports and then the tank performs just as you want it to. After pre-soaking the wicks, you're ready to attach the tank section, fill up and start vaping. You need to close off the liquid flow prior to filling up, though, otherwise you'll get some (pretty severe) leaking out of the airholes.
Overall, the Wotofo Conqueror Mini RTA is a very forgiving building platform, and even if you're used to using the standard post-containing decks, it's easy to get started with the postless design.
In Use
Once you've got your coil set up and your tank filled, the Conqueror performs excellently, overall, and it's a pleasure to vape with on a day to day basis.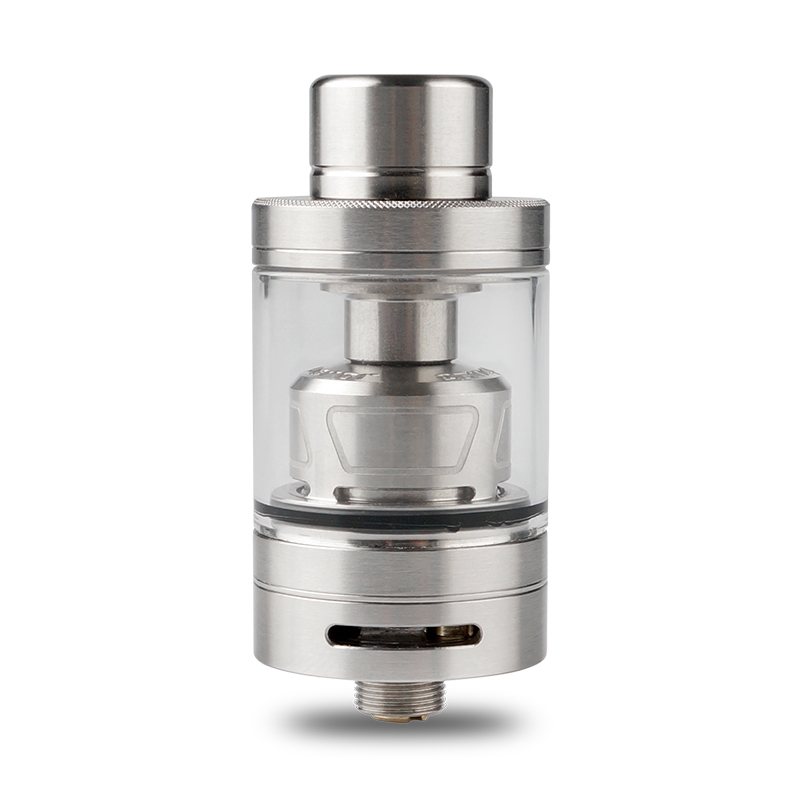 First off, filling up couldn't really be any simpler. The top cap screws off to reveal two slots for you to fill up, with knurled edges so it's easy to get a grip on. The slots for refilling rotate along with the liquid control ring, and underneath it there's a fixed, straight bar that may block part of the filling slots depending on where the liquid control ring is set. At minimum, the two large slots turn into four smaller ones, but there's still plenty of room to fill up. The upper window makes it easy to see when the tank is full.
When you've filled up, the performance you get from the tank is exceptional. With the ability to adjust liquid flow, you can set the tank up to suit either higher-VG or higher-PG juices with ease. As mentioned in the design section, you need to grip the rest of the tank a little firmly to make adjustments to the liquid flow, but it's still easy to accomplish, and you can see how open it is through the lower window.
The Conqueror atomizer provides excellent vapor production, with the under-coil airflow design undoubtedly having a big part to play in this. The drip tip is also wide bore, with a conical interior, which provides a nice balance between great vapor production and concentrated, intense flavor. The rebuildable nature of the device means it can comfortably cope with high wattages, so you have free reign to control the sort of performance you get.
Flavor from the tank is also hard to fault. It's easily comparable to the direct, robust flavor you get from an RDA, but its tank makes it way more convenient from a user perspective. Again, the rebuildable nature of the device gives you quite a lot of control over the intensity of the flavor you get – you can use Clapton wire or flavor-boosting builds if you want stronger flavor.
Although RTAs are inherently targeted at longer-term vapers, the more restricted airflow settings are great for mouth-to-lung style inhalation that smokers are used to. The wider airflow slots offer a loose, direct-to-lung style vaping cloud chasers and longer-term vapers often prefer. So the airflow options are great, regardless of your preferences.
There aren't many downsides to the Wotofo Conqueror in use, but there are a few of the sort of minor annoyances you'll find with most devices. The airflow ring has the same issue as the liquid control ring to a certain extent: you have to hold the rest of the tank carefully to make adjustments, so it would be better if it was easier to adjust. But again, it's really not very difficult to deal with once you've gotten used to it.
There are some minor issues with leaking from the airflow holes, but this isn't as bad as you'll get with other devices. You'll occasionally have to wipe the tank down, but unless you make the mistake of refilling with the liquid flow open you won't have any significant leaking to deal with. Finally, the tank is a bit of a juice-guzzler. This isn't such a big deal – and is largely dependent on your liquid flow setting, your build and your power setting – but it's something to consider if you want to get the most out of your juice.
Overall, though, the Conqueror is a solid rebuildable tank in use. The flavor and vapor production are both outstanding, and the top-filling design, liquid flow control and airflow options make it both easy to use and adjust to suit your preferences.
Build Quality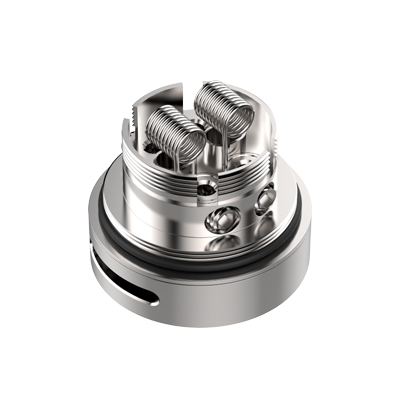 The Wotofo Conqueror rebuildable tank atomizer is well-made, with sturdy construction, snugly fitting threading and smooth conductions between the various components. As mentioned earlier, the liquid control ring and the airflow control ring are a little too stiff and not easy enough to adjust, but overall everything is nicely put together and works just as intended. The build deck in particular is excellently made, with every component precision-made and beautifully presented.
Details
The Conqueror Mini is Wotofo newest Authentic RTA with postless dual coil design.It is 2.5ml capacity. Also, The cotton , coil and juice hole are in the same level
so Eliquid conductivity is very nice. Conqueror Mini using pyrex glass with 304 stainless steel, the whole RTA is very beautiful on a small box mod.
①.2.5ml cute RTA Atomizer
②.Wotofo Original Design Postless dual coil RTA
③.Cotton, Coil are the same level with the juice hole, then eliquid conductivity is better
④.Beautiful pyrex glass with 304 stainless steel conbination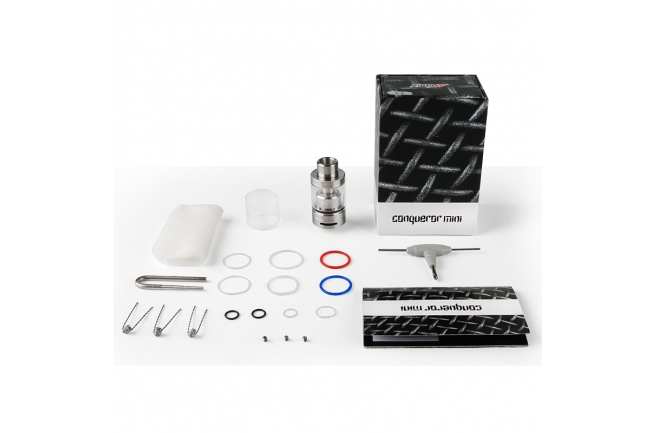 Specifications
RTA Brand WOTOFO Material Pyrex Glass + Stainless Steel Color S.S Black Thread Gold plated 510 pin Thread Diameter 22mm Product size (L x W x H) 39x22mm Product Weight 0.06 kg Model Dual coil postless build RTA Coil Rebuildable Yes Drip Tip Yes Package Type Gift Box Package List
1 x Conqueror Mini RTA Tank
1 x Janpan cotton
1 x Multifunction Wrench
1 x Coil Building tool
2 x Prebuild Twisted Coils
1 x Spare Parts
1 x User Manual
1 x Gift Box with a Wotofo Giveaway card