A look at Laisimo's box mod that features a 2.4-inch screen and Bluetooth functionality.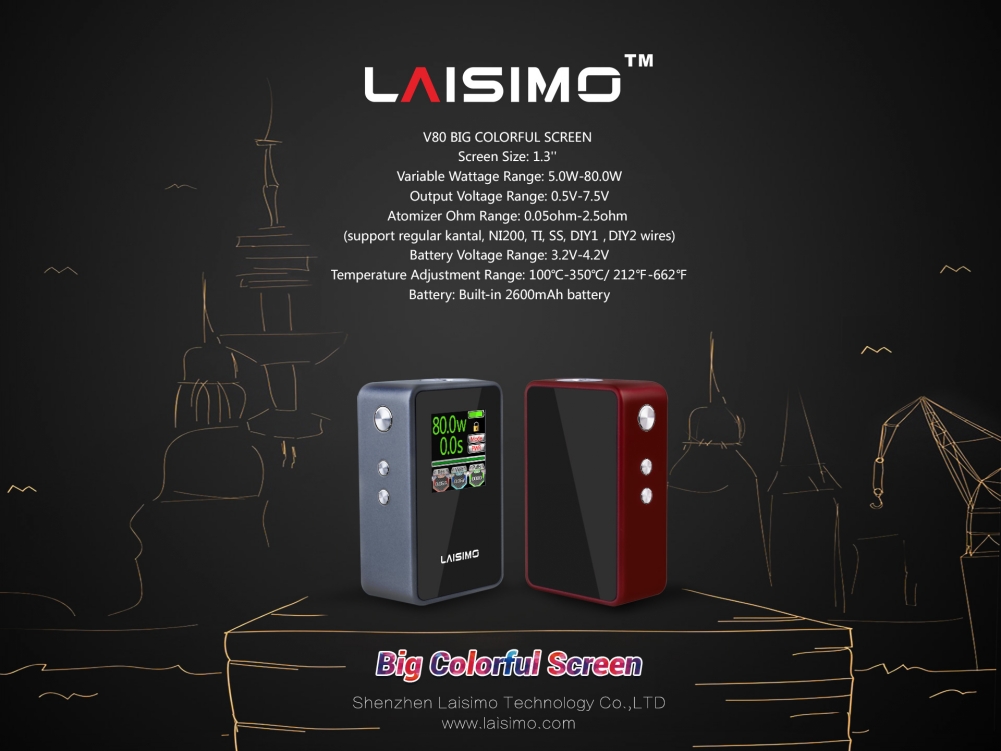 The Company You Know…and Don't
The Laisimo company has been an original equipment manufacturer (OEM) for better known companies like Asmodus and Sigelei. I'm certain that most of you have heard of the Asmodus Snow Wolf, but how many of you know that the popular lupine box mod was the result of a collaboration with Laisimo?
The company hopes to make a bigger name for itself in the near future and the Laisimo L1 is the first step in that direction. While it doesn't have some modern features out of the box, the Laisimo L1 has a pair of features that help it stand out — a 2.4-inch color screen and Bluetooth connectivity.
Let's get the goodies and stats out of the way. The Laisimo L1 is a 200 watt box mod that runs on two 18650 batteries. Its wattage range is 5-200 watts, while its voltage range is 0.5-7.5 volts. It will work with atomizers in the 0.05- to 2.5-ohm range. Out of the box (more on this later), it's capable of temperature control with nickel, titanium, and stainless steel wire. Naturally, it will work in wattage mode with all popular wire materials.
Sporting a 2.4-inch screen makes this mod larger than many 2016 dual-battery box-mods. The Laisimo L1's dimensions are 101 x 53 x 24.5mm. And before you chastise me for mixing imperial (dumb) and metric (superior) measurements, these stats are the official ones used by Laisimo. And (double), just to show you that I'm not a complete moron (only partial), 2.4 inches is roughly 61mm (I think).
The Laisimo L1 is available in black, red, and white. While all three versions look good.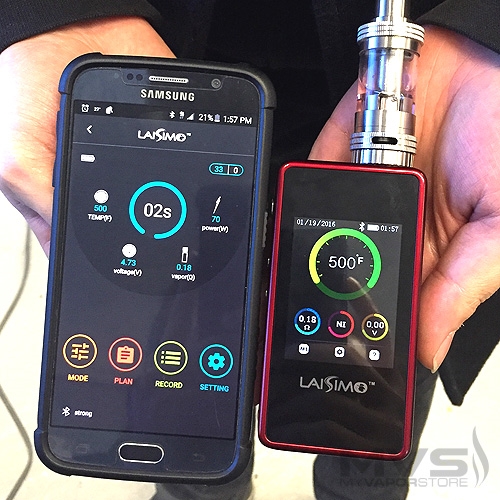 The Big Features
The most obviously outstanding feature of the Laisimo L1 is its 2.4-inch screen. While the vast majority of vaping devices on the market use monochromatic displays that are diminutive, the company opted to go with a large, color display. Considering how uncommon ample color screens are in vaping, it's fun to play around with the Laisimo L1's UI…even if you don't need to.
Certainly the display look primitive compared to that of an Apple iPhone or a Samsung Galaxy, but in the context of vaping box mods, it's quite lovely. I've only played with a handful of vaping devices with screens this size and it was fun using them all, simply because the display made me happy. I'm sure that novelty will wear out soon, but for the immediate future, I know that I must have a vaping device with a large, color screen soon. (And yes, I know it's a silly reason to want another vaping device, but I'm a lifelong tech nerd, so….)
The other interesting aspect of the Laisimo L1 is its Bluetooth connectivity. Vapers are able to download a companion app for this box mod on their Android or iOS devices. From there, the box mod can be controlled and monitored using the app.
Lastly, vapers will be able to upload custom wallpapers from their computer to the Laisimo L1. It's a nonessential feature, for sure, but raise your hand if you use a custom wallpaper on your phone. (Now put your hands down. I can't actually see you. haha)
The Laisimo L1 is a hanpretty box mod that packs a couple of features most of its competitors lack. Having said that, I don't know how many vapers will be attracted to a large, color display and Bluetooth connectivity. I'd love to hear your thoughts on the Laisimo L1 in the comments section.
>> Connect with me on Facebook here <<
Show is Every Thursday Night At 6pm CST
David Giudice (The Deaf Cowboy Jedi)
"Helping YOU Unplug From The Matrix"
Need E Juice or Vape Gear Reviews? Please Contact Me Directly At
DeafNeoNetwork@gmail.com
Or
Reach Me On Facebook.